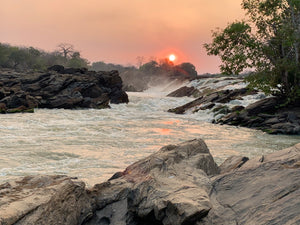 Homegrown African Inspired Fly Fishing Apparel
"Fantastic product, the t-shirt is sublime, great feel on the skin and quality" Gordon Van Der Spuy about the Fly Revolution Logo Tee
" Super stoked with the products" Paul B about The Icon Tee
"Really cool cap" Merwe E about The Bruiser Cap
Blog
---
Road Tripping into Midlife I have arrived, the Big 50. This particular milestone has crept up on me. The head feels 28 but the face and body remind me otherwise....
Limited Edition Saltwater Darter Fly Packs by Philip Meyer
Supporting Local

Like our designs, our fabrics are from Africa, as are the numerous small businesses who we work with in cutting, sewing and printing. We create jobs in Africa and uplift her people .

Our fabrics are combed cottons and are given a long last finish. The quality manufacture and classic designs are made to last. Our inks are formaldehyde free and meet the highest eco standards. All this helps reduce  environmental impact